If you're like most of my clients, the idea of creating a sales funnel conjures up horrific ideas of complicated technology and an overwhelming list of things to do.
Fear not – I have your back!  I believe in simplification.
Now that doesn't mean you don't need a sales funnel – you obviously do in order to get predictable sales.  Think of your sales funnel as game plan – a national hockey team or football team won't start a game without a plan or a strategy!   Without a game plan for your business – you can easily get lost in 'hustle' which results in a lack of traction or momentum.
I want you to have a game plan too – one that takes the guesswork out of your marketing.  No more emails your customers don't read.  No more weak conversions rates on your website (or other marketing material).  No more wasted advertising dollars.   Just a practical & powerful marketing/sales plan that makes you money!
But I want to assure you that the simple sales funnel I'm going to share with you here is really the only sales funnel you'll need (until you hit the multi-million dollar mark … and even then, I'm sure it will work!).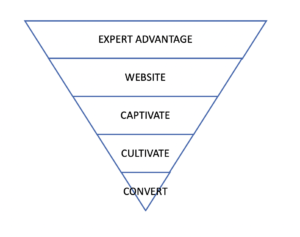 Expert Advantage – This is your business positioning statement
Explains how you & your business are different than other businesses in your industry (or niche).
Why your prospects should choose you.
It is the essence of all your branding and marketing.
It is the foundational first piece of your marketing plan.
Should be easy to remember and repeat.
It must evoke curiosity.
Your Expert Advantage also highlights your strengths or your Entrepreneurial D.N.A.  (undoubtedly, constructing your Expert Advantage is the one of the most difficult things for business owners to do themselves – just ask any  another business owner).
Website – your website (and other marketing collateral) must 'communicate' your brand position.  In simple terms, your website needs to tell your dream clients why they should choose you.  It must be clear, simple and succinct.  Unfortunately, many entrepreneurs leave their website building to a web designer – web designers are amazing at website construction, but few are great at writing content or including your Expert Advantage into the web copy leaving your website to be another waste of money!
Captivate – The 3rd piece of your sales funnel is to capture your dream client's attention and contact information.  Usually this is done with a freebie or opt-in on your website, business cards, and any other marketing material.  This part of your sales funnel is a little like dating – yes, dating.  Remember when you were dating – you 'captivated' someone's attention with a smile or flirt.  That was only step one…. Then you had to date to get to really know each other BEFORE you actually got married.
Other methods of captivating (depending on your stage of business growth) might include networking, or speaking, both with the focus of capturing attention & contact information.
Cultivate – this is the 'dating' part of your customers journey.  Whether it's through your blog, Facebook group or social media presence, this is your opportunity to show your expertise and for your prospect to get to know, like & trust you with your content.  Consistency is important here!
Convert – the last step of your customers journey is when you ASK them to work with you, or in our dating scenario, you ask them to marry you!  Following a repeatable sales process will allow you to increase your actual conversion rates! The sales process here might include elements such as a Branded Strategy Session, and a Pre-qualifying questionnaire.
So, there you have it – a 5 step simple sales funnel that you can repeat over and over again to grow your business.
Wouldn't it be nice if….
You didn't have to guess at what to say in your sales emails?
You knew exactly what you should say on your website to convert more customers?
Your marketing collateral actually made you money?
You had a foolproof plan to increase revenue before the end of the year?
Well, I've got great news for you – they can be true!
When you learn how to implement the elements of this sales funnel, you'll have a step-by-step game plan for marketing that actually works!  It will save you time, make you money and organize all your marketing efforts!
Last week, I mentioned that the Achiever's Club will be opening soon.  This is where you'll get the continued support you need to create your 5 Step Sales Funnel so that your marketing actually brings you clients AND you get well paid for your brilliance!
Investing in serious coaching and accountability is the fastest way to move forward.
I can help you if you're ready.
You can do this
Diana
The Achiever's Club opens its doors with our first call November 21 at 11am.  I look forward to welcoming you aboard!
Join here – https://dianalidstone.com/achieversclub/
If you have questions about whether the Achiever's Club is right for you, schedule a call with me here!
Rather a video version of this blog?  – TUESDAY TRAINING – 1pm – https://www.facebook.com/groups/643391035802616/