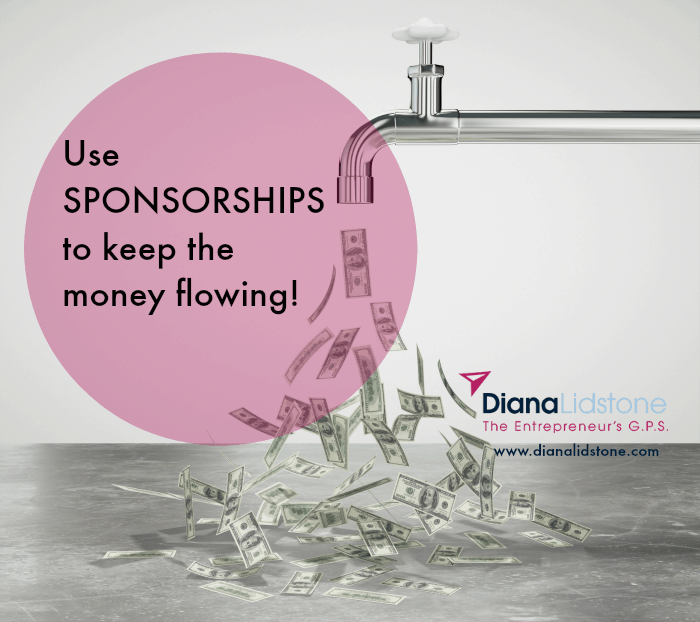 I've been including this marketing tactic for years in my business!  It positions me in front of other people's tribe and it has proven over and over again to bring more clients and more credibility to my business.
What is it?   Sponsorship at other people's conferences.
Here's 5 great reasons why you should add sponsorships to your marketing plan (but only if you want to stand out from your competition)!!!
Spotlight is on you — not your competition.  Typically at events, there is usually one sponsor per business category, i.e. one real estate agent; one weight loss expert, etc.  So if you are THE ONE — then your business is positioned as the expert in your field.  I want that – do you?
Increase in brand awareness — even if you don't have a massive flood of people at your booth, just having people see you in attendance INCREASES your brand awareness.  Last year, I was a sponsor at another business coaches event — it brought me clients because of increased brand awareness and visibility!
Stay top of mind — if you already have customers and some prospects in the pipeline, attending a conference as a sponsor is a good way to remind them about you and how you can help them!  We used to say that prospects needed to be touched 8-12 times before they would know, like & trust you enough to buy from you; however with today's noisy marketplace that number has almost doubled.  You must be out there where your target market can see you!!!
Engage face to face — sponsorship gives you an opportunity to actually speak to prospects who might have seen on social media; read your blog or even visited your website!  All of a sudden, there you are — in real life and available to speak to them!!  Time to 'engage'!!
Generate leads — at your booth you have a HUGE opportunity to generate potential leads.  Often there is an opportunity to gather contact information from prospects by offering a draw, a prize or an opportunity to book discovery sessions with prospects.
So if you're interested in
being in the spotlight and not your competition
generating leads
staying top of mind
increasing your brand awareness and/or
engaging face to face with prospects & clients
If you're target market is women, women entrepreneurs, women business owners …
Then perhaps you'd like to start with being part of SHIFT's sponsorship showcase (here).  As you know, I wouldn't recommend it unless I knew it had worked for me!!!
Imagine the possibilities
Believe it can come true
Achieve your goals!
P.S.   BTW – if you get a discount or free tickets to the event you are sponsoring, this is also a great treat to give to your customers!!
P.P.S.  Some events have speaking sponsorship opportunities — now those are the BEST!!