Whether you are in corporate life or an entrepreneur, it seems that these days "Time-starved Terry" is the everywhere. Actually, I met her on facebook, at the local coffee shop, at the PTA meeting and at my local networking event. You might identify with her …. you never seem to have enough time whether it's for business or family life (never mind for yourself). From the time you put your feet on the floor in the morning, till your head hits the pillow at night, there are never enough hours in the day! Is that you?
I have a confession to make …. that's NOT my life now but it once was. Now, I answer to myself, my husband and the cat (and in that order!). But it wasn't always that way. You might not want to hear another story of an overwhelmed business owner with a sick parent, a bed-ridden child, a rebellious teenager, a husband with a corporate job and oh yes, employees and a retail store! But that was me about 15 years ago! I've walked in your shoes Time-starved Terry! Looking back, I wish I could have had a friend, mentor or business coach to guide me, tell me or show me that life (and my business) truly didn't have to be like that.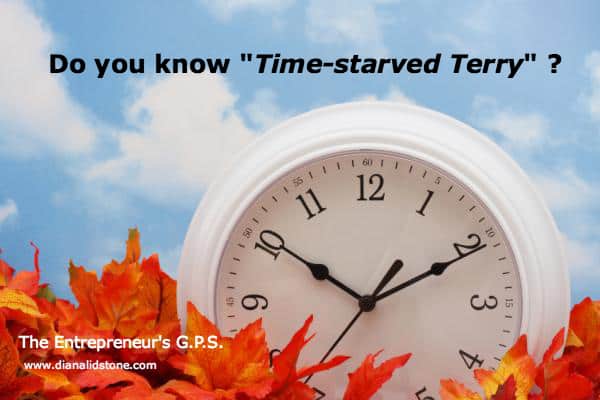 What I learned from my past mistakes can help you streamline your business and give you more time with family & friends. I've learned a few strategies about getting more clients by actually doing less; how to confidently stay on top of things so that nothing slips through the cracks; and how to implement short-cuts that will make you much more productive.
We have choices!!!! We all have 24 hours in a day; 7 days a week. It's what you CHOSE to do with those hours and minutes that will give you the life (and business) you love. So if you can identify with Time-starved Terry and would like to make a shift to have a business built around the life you love …. then call to schedule your FREE Business Breakthrough Session. Let's explore exactly what it is that you want from your life and business. You can have the BEST of both! Look forward to sharing.