Whether you want to hold a seminar, a small workshop, webinar or a large event such as PROSPER, there isn't much difference in these steps!! Hope they help you hold your own successful event — after all, speaking at events is one of the best ways to market your services!!!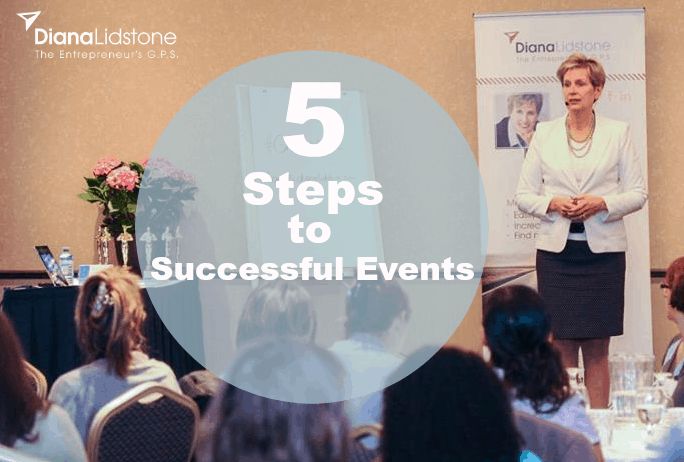 Here are my 5 Simple Steps to Successful Events:
1. START EARLY
Planning and pulling together sponsors requires TIME!!
setting dates (4-6 months prior)
reserve space
connect with sponsors (2 months prior)
solidify sponsors (6 weeks prior)
purchase tickets, gifts, etc.
2. FOLLOW UP before the event
It's true — there's a lot of communication that happens between myself & the sponsors. It's constant and has to be consistent! Don't be afraid to use the phone, texting, etc. as it often takes several different kinds of touch points!
3. MARKETING
Typically I use 2-3 types of marketing and the frequency increases as we get closer to the event!
social media 2 months in advance (once a day)
social media month prior (2-3 times per day)
networking (as often as possible month prior)
email with former attendees
post cards to mail & hand out
4. CONTENT (Preparation, Practising & Coaching)
Researching and pulling together content, preparing power point, organizing activities and getting the necessary coaching for improved delivery takes MORE time than you think. Now that I have a standardized format and agenda, things are much easier. But practise, practise and practise is essential. It's never too early to start!
5. POST-MORTEM
One of the most important things to remember is to immediately after your event, ask for feedback from attendees, sponsors and your coach. I usually ask for feedback from attendees at the event and then I follow-up with telephone calls for further feedback from sponsors. It's the feedback that gives you ideas how to improve each subsequent event!
Now — when will you hold you own event???
Pick a date – mark it on the calendar – and then share that date with someone!
Go out and Grow, Prosper & Succeed