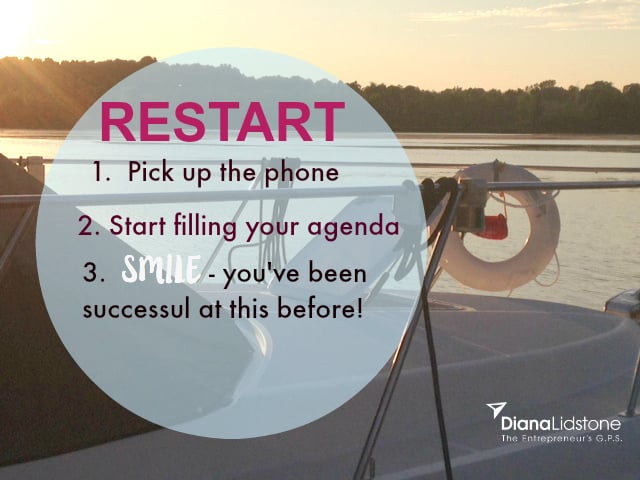 Getting back on the horse is never really easy (so the saying goes) but you know you GOTTA JUST DO IT.
It's so important to remember that reading & responding to all those emails is NOT the most productive thing you can do for your business!!! That is not a money-making activity!! FOCUS on those things that bring you money — anything that leads to creating clients.
So here's my strategy for starting that momentum again …. remember keep it simple.
1. PICK UP THE PHONE – whether it's past clients, current clients or future clients, the phone is still the best tool to use to connect and start building relationships. Create a list of people you haven't spoken to recently; find out what's going on in their life & business; what's their current struggle and offer to help them solve that challenge. Once you find out what they need, offer to instantly book a time to discuss how you can solve their problem for them! Don't make it complicated — spend a few minutes before the call; do a Power Pose for 3-5 minutes; know your programs & offers and go for it!!!
2. FILL YOUR AGENDA – your agenda (whether paper or online) is your secret marketing tool!!! The more phone calls you have booked; the more you use your agenda to time block and get organized — the more successful you will be! You can tell a successful person by looking at their agenda!
3. SMILE – you've done this before. I know you've taken vacation before. I know that you've felt that you had to 'restart' before. Take confidence in knowing that you've done this before AND you can do it again!!! I believe in you and so will your clients!
So guess what I'll be doing this week? I'll be picking up the phone — perhaps I'll even call you — stranger things have happened!
PS. My group coaching program, Achiever's Club, is NOW open. Starts August 25 & 26 with 2-day live MARKETING MAGIC Intensive.. Two spots are already taken — reserve your's now with a $299 deposit and END 2016 with more clients & more cash!!!