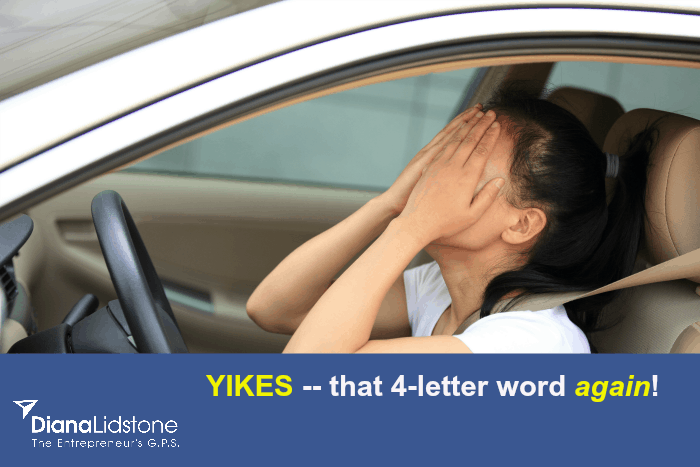 Yup – it's already June …. yes, that means that 2017 is half finished. It also means that you still have the next six months to reach that revenue goal you set for yourself for 2017.
Let's take a moment and think back to the beginning of the year when you were so excited to be setting those goals and looking forward in your business. What did you want to accomplish in your business this year:
was it a revenue goal (how much did you want to make this year?)
was it a project goal (did you want a new website? new staff? write a book?)
was it to take more time off? (to travel more? to have more time with family?)
So where are you now with respect to those goals or desired results?
did you set specific goals (specific amounts of revenue?)
did you set specific time frames that you would accomplish these goals?
what indicators did you set so that you would know whether you had accomplished them?
Are you on track?
All of this relates to that 4-letter word hated by many entrepreneurs — P-L-A-N. Did you have a plan? Do you have a plan going forward for the balance of year? Do you need to review that plan?
I see many of you out there struggling to get the high paying clients that you want; doing the same activities over and over again; and still aren't achieving the success that you wanted. Not only aren't you achieving the success you want but you don't have any free time because you are doing too many things that aren't important!!! I get it — I was in your shoes once too.
But here's some honest truth — you need a plan — a strategy — a road map to achieve anything close to success. But if you don't have a plan that you can implement easily — you're spinning your wheels — and that's not good.
Here's 4 simple steps to help you get to get unstuck and to move to 6-figures and beyond (if you're a member of the Achiever's Club, this will sound very familiar!):
Determine your revenue goal and then work backwards! You must be strategic about your content, consistency and choosing your FOCUS. Only focus on ONE thing!
On a 6 or 12-month calendar, block off dates for commitments that you already have including vacations, kids school days, regular networking events, etc.
Choose the date (or dates) that you will offer your programs (talks) and then work backwards. You don't have to have it PERFECT before you put a date on the calendar and start selling your program!!
Make a list of the things you need to do to get that program launched (talk delivered, etc.) ; and then prioritize & sequence those activities. Are they need to do or nice to have? Do they generate revenue? Put those detailed activities on the calendar (attached dates to them).
Keep your business simple (silly). Life is too short to be overwhelmed. Learn to love the 4-letter work P-L-A-N because planning & structure are the key to FREEDOM and your 6-figure ++ biz!
What's your method of planning, post them in my FB Group – Grow, Prosper, Succeed!
Cheers,
Diana
DO YOU KNOW AN ORGANIZATION or group looking for an engaging speaker?
Let's chat!
PS. Join me on FB LIVE every Wednesday morning at 8 am here.