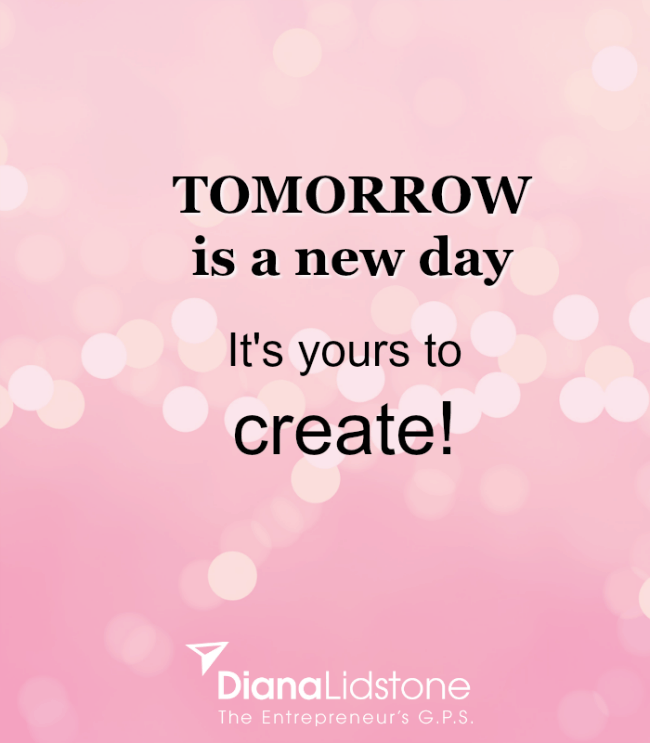 What if you could start your business over tomorrow? What if it was a brand new slate? What if tomorrow was a brand new day and you could change ANYTHING in your business?
What would you change?
Would you stop 'hunting' for new clients?
Would you stand taller and be braver?
Would you play bigger?
Would you pick up the phone and make 3 phone calls consistently every day?
Would you stop tolerating clients not paying you what you're worth?
Would you raise your prices?
Would you learn how to work fewer hours but make more money?
Would you have a different product/service offering?
Would you learn to automate some of your business activities?
WHAT WOULD YOU DO? ________________________________________
Okay STOP — tomorrow is a brand new day! You can change anything that you want in your business! It all starts with a decision to make a change!
Ahhhh – but there's the thing… you want a different outcome; but you aren't sure if you can make the changes!
Are you afraid to make changes?
Are you unsure what to change?
Does change frighten you?
Do you have all the knowledge/skills that you need to make the changes?
I know that you are super smart! I know that you want to help more people and get paid well for it! However, if you aren't ready for change yet — that's okay — it just means that you need a SHIFT.
I totally get it!!! Here's what I know for sure …. these changes and shifts, they are scary, especially when you are alone in your office or at behind your computer at your desk! Even if you've drawn a line in the sand; even if you've made the decision to change — change can be difficult.
Don't let the FEAR stop you! You do amazing work (your clients tell you this).
Reach down inside — find the courage — listen to your heart & become the braver, wiser version of yourself and SHIFT!!!
Take the opportunity to make those changes in your business. I'm here to help you because, after all, I believe in you!
PPS – You might have noticed a name change — I'm rebranding my events and a few of my courses. The word SHIFT will become more prominent now going forward. At SHIFT – Money & Mindset this fall, I'll announce some new programs!!
PS. Check out Facebook Live – Wednesday morning at 8am at Diana Lidstone – The Entrepreneur's GPS. HOT TOPIC — #1 Element to Success