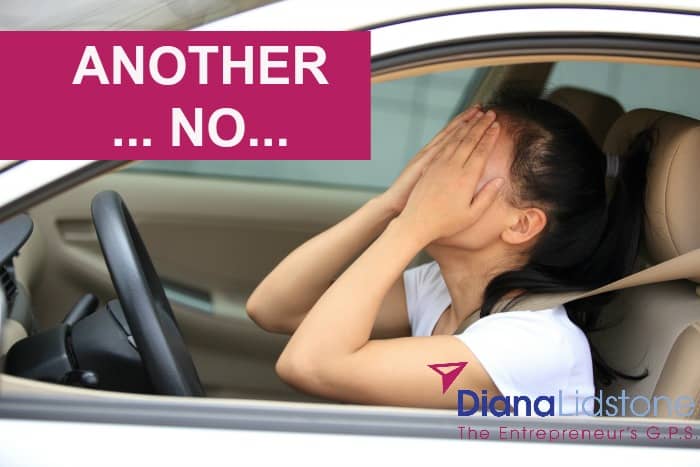 You just got rejected. You made an offer to a prospect and they turned you down! You're feeling crushed; rejected; and frustrated!
They said…
can't afford it
I'm too busy now
Need to ask my …
Need to check my finances…
I'm not buying anything else …
I have to think about it …
So what do YOU do when you hear objections like the above?
My strategy after hearing a NO, is to evaluate the situation (why did they say NO; was there something I could have improved in my sales conversation, etc.). My next step is to move along to the next person!
WHY? Because the longer I've been in business (30+ years now), I can assure you that I've heard those reasons/excuses and many many more.
AND IT'S OKAY! (I can now say that!!)
It's okay because I realize that they aren't saying NO to me personally. Most of the time, they are saying NO to themselves. These objections are often their inner critic running the show; keeping them in their comfort zone.
And it's okay because I've learned that THE MORE PEOPLE I TALK TO – the more people I work with. Truthfully, more people won't work with you, than will! And that's a truth you have to be okay with!
In reality – for most entrepreneurs (coaches & consultants) it's a numbers game! The more people you talk to — the more will say yes — the better you get at having those conversations.
The best way to get over rejections is to set up more calls (discovery sessions). Move on to the next person who truly is a good fit for you — who wants to work with you. Then let it go.
Hit reply and tell me …
I have a system to fill my calendar with prospects and its working! Getting the yeses!
I make a few offers here and there but I'm getting lots of noes
I don't have a system and I'm not offering my programs but wish I did.
I want to feel more confident during my sales conversations so I get more YESES
Other …
PS. If you're in the Ottawa area (or missed the Montreal or Kingston event), #SHIFT – The Money Event is November 17th. Get your ticket here! This is the perfect event if you don't like talking about money; if you have trouble asking for money or if you lack confidence in your sales conversations!