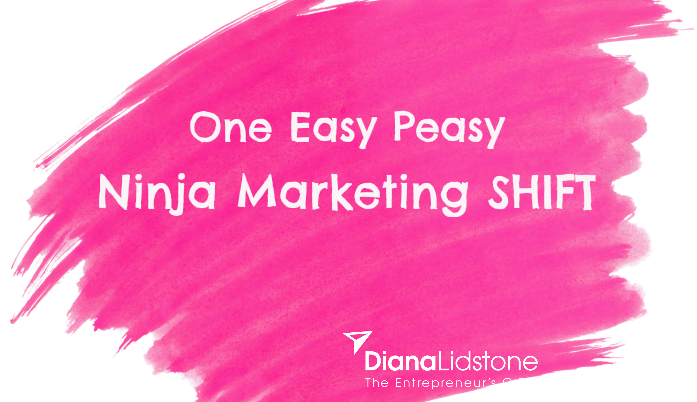 Why all the fuss about networking lately? When done well, networking is a powerful marketing strategy and it's one of the easiest strategies to implement! It's the best testing ground for your marketing message AND it doesn't require any frustrating technology, fancy sales funnels or paid advertising! And yet, I often hear from clients – networking doesn't work; it's so hard; I never get any clients from networking; etc. If you've ever said anything like that – I get it!! Perhaps this ninja marketing shift will help you SHIFT your networking so that you're actually attracting clients!

Recently I've been attending a ton of networking events and I'm still shocked at the number of people who just talk about themselves!! To be honest — that's when my eyes start to glaze over and I tune out. Who wants to hear all about THEIR credentials, THEIR list of accomplishments, THEIR business process?

Are you talking about yourself all the time? At networking events, are you using the word "I" more than you're using the word 'you'?
I'm a ……..
I get people results.
I have this certification.
I've been in business for 5 years.
I've received ….

This is commonly known as "I" marketing!!!

When you use too many 'I" statements you actually push away prospects! Truthfully, your prospects don't want to know about you – they want to know what's in it for them (WIIFM). They want to know what problem you can solve for them AND what results you'll help them achieve! SHIFT your networking to asking questions about them!!!

This "I" marketing SHIFT is also notable for writing copy whether it's on your website, landing pages or blog! The last thing that you want to do is to push prospects away – that's counter intuitive!

Attract more clients by using the NINJA SHIFT – from 'I' marketing to "YOU" marketing

Did you happen to miss these other articles on making networking easy:
Why Networking Fails?
8 killer mistakes to avoid in your elevator speech
Marketing is a learned skill. If this one ninja marketing SHIFT has been useful to you – IMAGINE what you would learn at a full day marketing event. I invite you to get your ticket to SHIFT – the marketing event (Montreal, Ottawa or Kingston).
Imagine with all your mind
Believe with all your heart
Achieve with all your might!
P.S. GOT YOUR TICKETS TO SHIFT-The marketing event yet? You won't want to miss this amazing, interactive day of networking, learning & fun!!! Click here