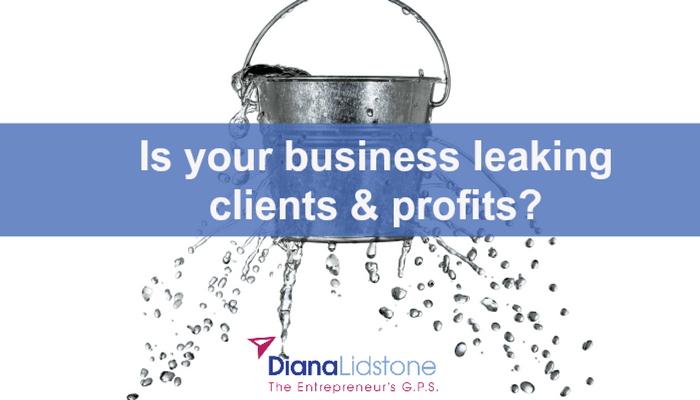 You work really, really hard to get your leads, prospects and clients. You go to networking events two to three times a month. You gather piles of business cards. You prepare posts for social media and then spend time posting them. Perhaps you're out there speaking or being a sponsor at other peoples events. You invest your precious time 'doing' your marketing.

All that work and STILL you're short!

You're short on clients.
You're short on sales conversions.
You're short on money!

So sometimes, I'm guessing it feels as though your business is like a leaky bucket. You're pouring your hard work into the bucket but the bucket never seems to fill up; it seems to have a leak somewhere!

Yup – it's just like a bathtub that never seems to fill because you forgot to put the plug in!

So what's missing in your leaky bucket business!? You have the leads but you forgot the 'follow-up'! You've heard it before – fortune is in the follow-up!

What's your follow up system? Why do you procrastinate on follow-up? Think it's too pushy or not going to work?

Follow this 7 – step follow up system that easily turns piles of business cards into paying clients.

1. Enter prospects/business cards into a data base (CRM) so that you never lose track of them again. Make notes about them in their file and attach dates to follow-up with them.

2. Connect with them on social media.

3. Send a warm email (nice to have met you).

4. Send a personal written note (there's nothing so nice as to receive a piece of mail that isn't a bill)

5. Mail or email them something of value (a lead magnet, a piece of educational material, or something of interest to them)

6. Make a phone call (24-48 hours) and remind them who you are; perhaps ask for a coffee date; ask how you can help them find more clients?

7. Invite them to join your mailing list.

8. Perhaps add them to your birthday card campaign or holiday list!

In today's busy world, it takes effort to stay top of mind with prospects! Good luck – you don't have to work so hard with your marketing; you just have to take advantage of the leads that you already have!

FORTUNE IS IN THE FOLLOW-UP.

During upcoming SHIFT-the marketing event, I'm going to share with you 3 kickass marketing strategies that can catapult your coaching, consulting or healing business to $10K a month or more. One of the keys to turn leads into sales …. is follow-up. It's the most common missing link!
There's only a few days left to get your ticket to Ottawa or Kingston — here!

Imagine with all your mind
Believe with all your heart
Achieve with all your might!
Diana