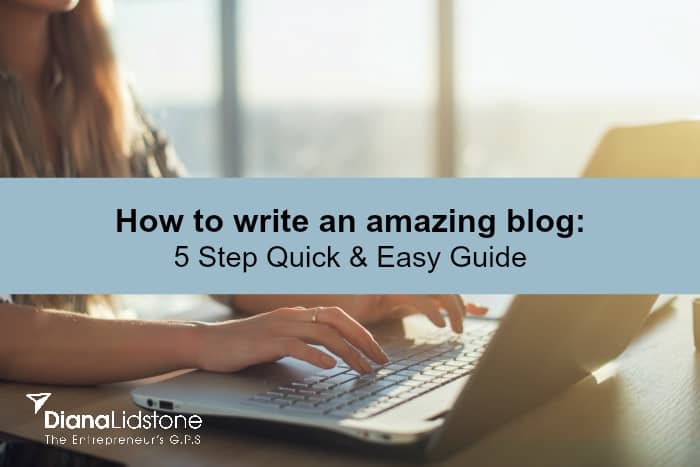 Clients often ask me "So, what do I write about in my blog?"
And that's exactly what happened last week in the Achiever's Club when a member asked – "so how do I know what to write about in my blogs?  I never know what to say".
So I wanted to help her and I replied – this is a great blog title for my readers.  You see if one Dream Client wants information on a topic — it probably mean that others to do!
However, before you start writing blogs, I'm going to assume that you know who your dream client is and how you serve them!  (If you don't know, then I'm afraid you're committing one of the 5 Deadly Marking Mistakes that are costing you clients!)
5 Quick & Easy Steps to writing amazing blogs (that your Dream Client will love)
1.     Start a file called BLOG IDEAS – whether this is on your computer or a paper file, it doesn't really matter.  Whenever you notice that clients or prospects are continually asking you the same questions, make a note and drop it in the file.  Or if you are reading someone else's blog that is inspiring, put a copy in your blog idea file to inspire you to write your own article on the same or similar topic.
Once you have started the file, then you will want to categorize your blogs.  For instance, my blogs would include categories such as sales, marketing, dream ciient, compelling message, speaking, premium signature program, etc.  These would then be used as 'tags' or ways of sorting your blogs on your website!
2.     Create a template – I'm going to share a template that was taught to me when I recently took a blogging course from Kathy Colaiacovo . One quick tip I learned from Kathy is to always write your blogs in Word first and keep them filed in Word; then you can re-use sections of them for other types of marketing!
Here's the template:
What's In It For Me? (WIIFM)
Highlight two or three benefits that your audience will get from reading your post.
What is going to convince them that this is important?
Post Format
What format will your post be in?
Why would it benefit your audience for your post to be in this format?
How long will your post be (written word – couple of hundred; video – minutes?)
Introduction
State the problem your audience is experiencing.
Highlight three things that your audience is going to gain or learn.
How will these things help solve their problem?
Tell them why they should read this post.
Body Copy
Header 1: 

Sub-header 1:
Sub-header 2:
Sub-header 3:

Header 2:

Sub-header 1:
Sub-header 2:
Sub-header 3:

Header 3

Sub-header 1:
Sub-header 2:
Sub-header 3:
What's Your CTA
What action to do you want your audience to take?
List of Sources and Data
List any sources or data that you want to include in your post:
1.
2.
3.
4.
5.
Conclusion
Summarize the main points of your post.
Add in your CTA.
Add links to other articles on the same topic
Main Keywords:
Categories/Tags:
3.     Write your headline (yes – you may find it easier to write the headline after the blog is completely written.
i.      here's a great FREE article & tools to use to analyze your headlines for improved performance — https://coschedule.com/headline-analyzer
ii.     headlines with a strong 'emotional' component also perform better (see 180+ power words using the same link as the headline-analyzer).
4.     For myself, once these steps are done.  I leave the blog for 24 hours – then I review it; create picture for it (using Canva or PicMonkey) and then I upload it to my website.
5.     Here are some miscellaneous ideas:
i.      create a content calendar (see https://dianalidstone.com/blog/2016/6/6/creating-an-endless-stream-of-blog-content-fast-easy-fun)
ii.     Done is better than none – do NOT spend endless hours procrastinating whether your blog is perfect; it shouldn't take you more than a couple of hours TOPS!  Remember you are the expert!
iii.    For further inspirations on how to create a title that is sexy or juicy, try 'googling' your own title and see what inspirations come up!
iv.    Use a VA (virtual assistant) to have your blog posted on other social media platforms i.e. LinkedIn, etc.
Well –  I know that's a ton of information about basic blog writing!  If you're just starting out follow the steps one at a time and don't allow yourself to get overwhelmed.
If you're not new to blogging, I trust that there's 1 or 2 take aways that will help you connect with your prospects and cultivate them into clients.
BTW – you can use the same ideas for creating videos, podcasts, etc. – it doesn't have to be limited to blogs!
This week's EXTRA….
1.     If you think you might be making some marketing mistakes that are costing you clients – Register for my FREE webinar – July 12 at 2pm ET.  Here is the link .  Because more marketing isn't the answer to driving more customers to your door!
BE UNSTOPPABLE this week….
Diana