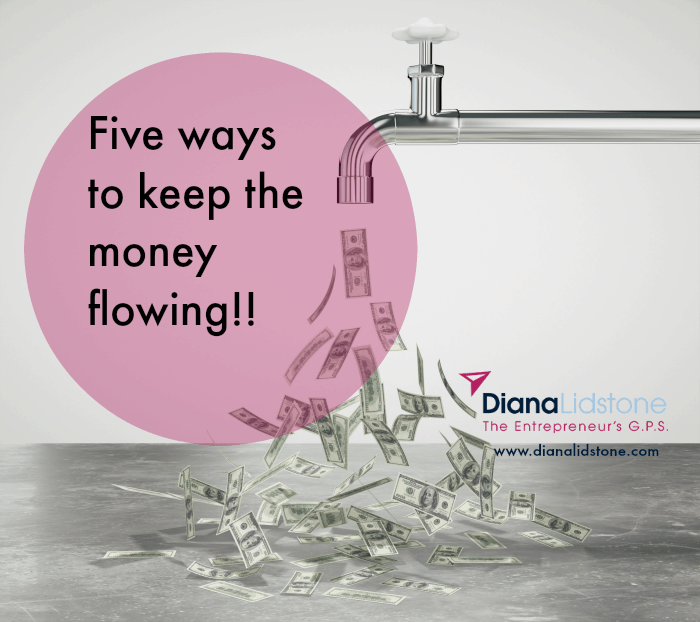 MONEY. It comes in and goes out! But sometimes it seems difficult to keep the money flowing INTO our businesses on a consistent basis.
So let's do a little exercise — stop whatever your are doing and spend 15 minutes to examine how your clients come to you. Which marketing strategies drive clients to your door? Is it your website? Your social media? Cold-calling?
Once you determine which strategy was more effective in driving those clients to your door, then it's time to refine that strategy so that it is more consistent, regular and predictable. When you can predict the consistent income, then you know that you have a true system in place that will help you build a profitable business.
But what if you don't have enough customers? What if you don't believe you are getting the best ROI on your current marketing strategies? Here are five of the best ways to drive clients to your door and to keep the money flowing into your business!
SPEAKING — It was only about 5 years ago that I was president of my local BNI Chapter and weekly I stood in front of the group of 20 shaking in my boots, holding the agenda in my hand, and READING from the paper. Today I regularly speak in front of groups of 100+ women. It took some courage & some training but ooooh — it's so worth it. Speaking to groups of 5, 10, 20 ++ allows your Dream Client to get to see the real you; to get to begin to know you, like you, then ultimately trust you. So if speaking to groups is one of your fears — join a local Toastmasters chapter (I did) or hire a speaking coach (I've done that too!).
NETWORKING — Networking is probably one of the most common ways of gaining visibility & credibility however, it has to be done right to get great results. If you aren't getting the sales you desire, then perhaps there's room to improve your networking skills!
REFERRALS — One of the best ways to grow your business and keep the money flowing is to ask your current customers for referrals, especially immediately after you've done a great job for them! Another way to get referrals is to align yourself with a strategic partner who has the same Dream Client as yourself but they solve a different problem. For example, often a financial advisor and an accountant or a notary are good strategic referral partners.
SPONSORSHIPS — Sponsorships is a marketing strategy that is becoming more popular. It's extremely effective in being exposed to a new network of prospects. For instance, for my upcoming events GROW (Montreal) and PROSPER (Ottawa), I will offer other business owners the opportunity to 'sponsor' or display a booth at the event. These are businesses that serve the same clientele but again, offer a different solution. At both events, it's common to have a bookkeeper as she also provides services to the small business owner who is in attendance. Sponsorships have been instrumental, for me, to gain quick exposure to new networks since I have changed cities.
FOLLOW-UP — I could have included a different marketing strategy here; however, I feel strongly that follow-up is so neglected by most small business owners that it was important to include it as a way to keep the money flowing. You can be a great speaker, networker, get tons of referrals and do lots of sponsorships; however, if you don't do any follow-up — the money will dry up! If you don't want to call it follow-up — call it 'stay-in-touch'. But whatever you call it, it's imperative that you keep your name, your brand, your message top of mind with prospects, your current clients and your past clients to keep the money flowing into your business. (FInd my Follow-Up Bonus Bundle or Follow-Up 4 Success workbook & mp3 when you click on the links).
Those are five smart ways to keep the money flowing into your business. To keep it flowing consistently, you have to be consistently & regularly marketing! But don't let those 5 marketing strategies put you into total overwhelm thinking that you have to do all of them at once. NO – do one strategy well and perfect it; then move on to add another strategy into your marketing road map that drives clients to your door consistently.
If you'd like to explore some other business or marketing strategies with me, apply here for a complimentary Business Breakthrough Session. I'm here to help you Grow, Prosper & Succeed!