In order to stay in business today, you have to be good at what you do!
You have to get good results.
You have to have good customer service.
You have to be a good listener.
You have to have a good product/program/service.
You need to be good just to survive.
But to win the business, to thrive…… You have to be better.
Or at least you have to appear to be better!
You have to be able to communicate that you are the better choice!
You have to differentiate yourself from your competition – otherwise, you're just a commodity.  Otherwise, you're just like everyone else and you get lost in the sea of sameness in the crowded, global online world.
When my husband & I moved to the Thousand Islands from Montreal, we asked our neighbours for restaurant recommendations.  (Montreal is a city of awesome restaurants).  You see we wanted not just great food but a great experience.
The recommendation was The Ivy …. But you'll have to make reservations weeks in advance and it's expensive.
Perfect we said.
Think of your business like The IVY restaurant.
What would it be like to have a waiting list – reservations weeks in advance?
What would it be like having customers coming to you KNOWING that you were going to be expensive?
It's possible for you!
The IVY built a reputation and a brand not just for good food and a good experience BUT for exceptional food and experience.
The menu is small (they specialize in local food).
The view is exceptional (looking out over the river, islands and marina).
The service is outstanding (blankets for cool summer evenings).
YOU CAN BECOME THE IVY by becoming a specialist and learning to communicate how and why you are the best choice (the only choice) for your customers.
If this sounds like something you want to do…… then I invite you to join Differentiate to GROW here.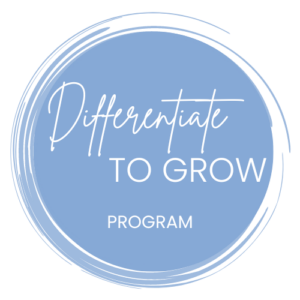 YOU CAN DO THIS
Diana