There's no doubt that President-Elect Biden has grit, determination and perseverance.  He ran a heartfelt and difficult campaign.  He selected a woman as vice-president (never done before).
He never gave up.
He suffered the death of his first wife; the death of his son.
He never gave up.
He ran for president twice.
He never gave up.
He's 77 and he never gave up on his dream!
Have you given up on your dream? I hope not!!!
Although Biden could see a difficult road ahead; he had a dream; kept the dream in front of him; focused on activities that could help him achieve that dream – and kept going.
He surrounded himself with a support system; people who shared his dream; and people who kept him focused on his dream.
Are you doing that in your business?
Are you focused on activities that keep your dream front and center.
Are you surrounding yourself with a support system that shares your dreams?
Are you surrounding yourself with support to keep you focused on the right activities to help make your success a reality?
That's a lot of questions but I want you to see that to achieve any level of success you need to:
Build a strong foundation.
Have a support system.
Be surrounded by like-minded individuals.
Be focused on the right activities!
In your business, it's the same.  Here are 4 steps to success:
Stage 1 – put in place the foundational elements for future growth while validating your message, offer and brand.  For Biden, this was being a lawyer.
Stage 2 – learn to leverage, delegate and systematize to free up valuable time.  Biden's second step was in the Senate.
Stage 3 – learn to scale and implement scalable strategies for significant growth.  Biden's third step was being Vice-President.
Stage 4 – enjoy the success!  And now Biden is President-elect.
Sound familiar – it comes from my GrowmeterTM  (see video below)  There's no quick path to success!  Just one step at a time.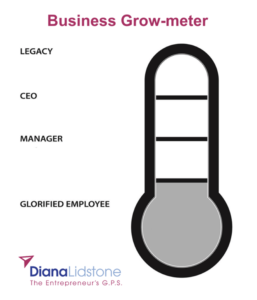 YOU CAN DO THIS!
Diana
If you'd like support to build your foundation, so you can grow a predictably profitable business – here's my invitation to book a Marketing Acceleration Session here.
Other blogs on similar topics:
https://dianalidstone.com/blog/2019/11/25/want-to-scale-your-business-in-2020/